10 Best Remote Work Productivity Tools in 2023
Use these 10 remote work tools to easily supercharge your productivity this year.
Welcome to the future, where working from home is the new normal and pajama pants are the new power suits.
As we all know, remote work has taken the world by storm, and it's not slowing down anytime soon.
But let's face it, staying productive at home is a challenge. With endless distractions like Netflix, your furry co-worker, and the snack drawer calling your name, it's easy to lose focus.
That's where our list of the 10 best remote work productivity tools in 2023 comes in. We've compiled the most efficient and effective tools to help you stay on track and get stuff done.
These Are the Best Productivity Tools You Need for Remote Work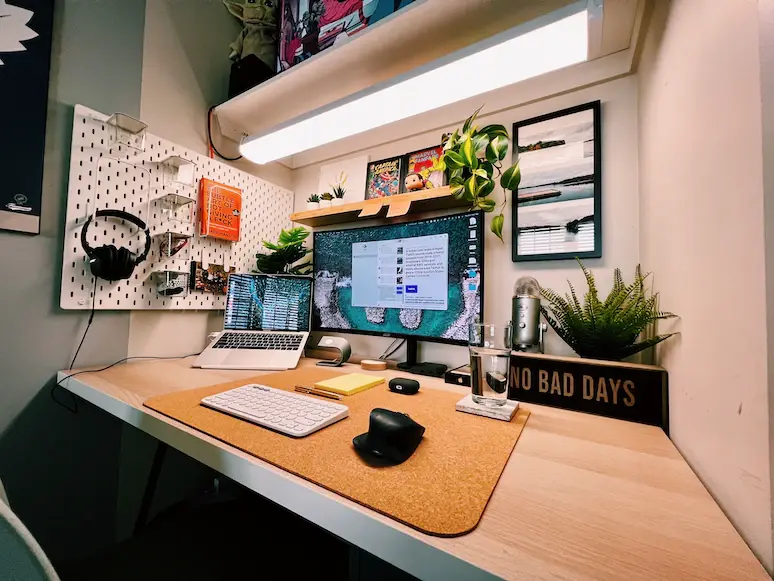 In the world of remote work, productivity is king. And just like any good king, it needs its trusty tools to rule with an iron fist (or a friendly nudge, we're not judging). That's where these productivity tools come in.
They're like your very own personal assistants, except they don't ask for vacation time or coffee breaks.
From task management to time tracking, these tools have got your back. So, whether you're a seasoned remote worker or a newbie just starting out, it's time to gear up and get ready to tackle your to-do list like a pro.
Trello is a fantastic project management tool. You can create tasks or workflows in the form of:
Cards are basically an expanded version of each board or list item. This makes collaboration easier as you can assign team members, add descriptions, comments, images, checklists, and a lot of other actions. All of these features make collaboration easier and productivity better.
These are a few domains of businesses that would benefit from Trello:
Software development: To track project progress, manage tasks, and collaborate with team members remotely.
Marketing: To plan campaigns, create content, and manage social media accounts remotely.
HR: To manage employee onboarding, training, and performance reviews remotely.
And a lot more other types of businesses.
Despite the robust features, Trello also shares its own set of drawbacks. For one, customization is limited, so managing projects on Trello will be quite tricky for complex organizations.
Then comes the pricing. Large organizations might find Trello a bit too expensive for project management, especially with limited customization.
This is a lot like Google Drive. If you want a dedicated, cloud-based space for storing and sharing your files, Dropbox is one place you can choose.
One of the main features of Dropbox is its block-level file copying. Drive does not have this, and this single piece of technology makes Dropbox a faster choice. What does it mean? When Dropbox syncs a file, it only copies the bits that have changed.
So you'll have a longer syncing time the first time your Dropbox syncs but significantly lesser time from thereon.
This faster syncing helps remote teams improve productivity. So more time on getting work done and less time waiting to sync.
These are a few domains of remote teams that would benefit from Dropbox:
Creative teams: Designers, writers, and other creative professionals can use Dropbox to collaborate on projects, share files, and get feedback from colleagues and clients.
Sales teams: Sales professionals can use Dropbox to access sales materials and collaborate with colleagues on proposals and presentations, no matter where they are located.
Marketing teams: Marketing teams can use Dropbox to share and collaborate on campaigns, store and manage brand assets, and share data and analytics.
And a lot more!
Now, if there's any drawback about Dropbox, it would be the pricing. Drive and Dropbox are comparable, and Drive is a bit more generous in terms of pricing.
Drive has the same use case as Dropbox. It's meant for storing and sharing files.
If you already use other Google apps, consider using Drive for storage and sharing, as it seamlessly integrates with other Google apps.
Plus, pricing and security are two aspects where Drive has the upper hand compared to Dropbox.
And regarding the kind of teams that can benefit from Drive, it's entirely the same as Dropbox.
One drawback of Drive is its difficulty syncing large files. Unlike Dropbox, Drive does not have block-level copying, making it longer for large files to sync.
Figma is one of the mainstream UI/UX designing tools. Its major features include:
UI/UX Design.
Wireframing.
Diagramming.
Templates, etc.
It also supports real-time collaboration. That means designers (or any other professional of a remote team) can work together on a design in real-time, promoting better collaboration and productivity for the design aspects of a remote team.
Figma works best for pretty much anything related to design. So it's beneficial for teams like:
UX and UI design teams: To create and prototype user interfaces, test user flows, and create design systems.
Marketing teams: To create and design marketing collateral such as social media posts, email templates, and infographics.
A significant drawback of Figma is its cloud-based functioning. You need to be connected to the internet all the time to be able to fully use the tool.
Jira is an agile project management tool that helps teams track and manage tasks and issues. Its main features include:
Project management: Plan, track, and manage tasks across multiple teams and projects.
Issue tracking: Identify and resolve issues quickly and efficiently with customizable workflows and integrations.
Reporting and analytics: Get insights into team performance and progress with custom reports and real-time dashboards.
Integration with other tools: Connect Jira with other tools like Slack, Trello, and Confluence to streamline communication and collaboration.
Its agile project management approach and issue-tracking capabilities make it easy to stay on top of tasks and collaborate effectively, no matter where the remote team members are. Plus, its real-time reporting and analytics help managers and team members stay on top of progress and identify potential roadblocks.
Industries or teams that would benefit from using Jira for remote work include:
Software development teams.
Marketing teams.
Customer service teams.
And more!
One potential drawback of Jira is its complexity. While it offers a robust set of features, it can be overwhelming for teams new to agile project management or with limited experience with the tool.
monday.com is a cloud-based platform that helps teams manage projects, track progress, and collaborate in real-time. With a user-friendly interface and customizable templates, it's an ideal tool for remote teams to streamline their workflows and boost productivity.
One of the key features of monday.com is its visual project management board. You can create and customize boards for different projects to suit your team's needs. From there, you can add tasks, assign team members, set deadlines, and track progress in one place.
One of the biggest challenges of remote work is staying connected with your team members. With monday.com, you can collaborate in real time, no matter where you are. You can leave comments, tag team members, and share files, making it easy to stay on top of projects and keep everyone in the loop.
monday.com is a versatile tool that can benefit various industries and teams. Here are just a few examples:
Marketing teams: Marketing teams often have many moving parts, such as social media campaigns, email marketing, and content creation. monday.com can help teams keep track of all these tasks, assign responsibilities, and ensure all deadlines are met.
Software development teams: monday.com helps software development teams manage their sprints, prioritize tasks, and keep track of progress, all in one place.
Creative agencies: The tool can help teams manage feedback, track revisions, and ensure all parties are aligned on the project's objectives.
And more!
One potential drawback of monday.com is its cluttered UI. Many users have reported the interface is a bit hard to follow and digest.
Airtable is a cloud-based spreadsheet/database hybrid offering a unique data-organizing approach. It allows users to create custom databases to manage projects, tasks, and any other type of data.
It has a drag-and-drop interface, customizable templates, and integrations with other tools, making it an excellent choice for remote teams looking to streamline their workflow.
The platform offers a variety of features to help you manage your work, such as:
Customizable views: Airtable lets you switch between various views, including grid, gallery, calendar, and Kanban board.
Collaboration: You can invite team members to collaborate on a project, control each member's data access level, and track real-time changes.
Automation: With Airtable's automation feature, you can set up workflows to automate repetitive tasks, such as sending notifications or updating records. This feature saves time and increases productivity.
Airtable can benefit a variety of industries and teams, such as:
Marketing and creative teams: Airtable can help marketing and creative teams track content calendars, manage social media campaigns, and organize project workflows.
Sales teams: Sales teams can use Airtable to manage leads, track deals, and collaborate on customer relationship management (CRM).
Project management teams: Airtable can be used by project management teams to manage project timelines, track budgets, and assign tasks to team members.
And a lot more!
While Airtable offers many benefits, it also has some limitations to consider. For instance, the platform can get a little expensive for some businesses. And it comes with a steep learning curve, which can be pretty hard for non-tech-savvy individuals to master.
This tool provides a one-stop shop for all your productivity needs. From task management to time tracking, ClickUp has all you need to stay on track and manage your work effectively. Its main features include:
Customizable task lists and workflows.
Time tracking and reporting.
Collaborative notes and docs.
Integrations with other productivity tools.
ClickUp helps with remote work productivity by streamlining project management, task management, and collaboration. With customizable task lists and workflows, you can easily keep track of your tasks and projects, assign them to team members, and set deadlines.
You can also use ClickUp's time tracking feature to track how much time you spend on each task and project, helping you better manage your time and increase productivity.
In addition, ClickUp's collaborative notes and docs feature allows team members to share information and ideas in real-time, making it easier to work together and stay on the same page.
Industries or teams that would benefit from using ClickUp for remote work include:
Software development teams: ClickUp provides a variety of features that can help software development teams manage their projects, including task lists, issue tracking, and agile boards.
Marketing teams: The tool helps marketing teams manage their campaigns, social media, and content creation processes. It also offers tools for tracking campaign progress, setting goals, and analyzing results.
Design teams: It has features enabling design teams to collaborate on projects, share files, and provide design feedback.
And more!
One potential drawback of ClickUp is that it may take some time to set up and customize to your specific needs, so a steep learning curve is involved. However, once set up, it can significantly improve productivity and efficiency for remote teams.
Notion is like a documenting tool for remote teams. It's like a digital notebook where you can document all of a team's knowledge and collaborate on it in real-time, making it one of the best collaboration tools for remote teams.
It also works as a task management tool, so you can use Notion to improve productivity in multiple ways.
These are some of the domains of remote teams that can benefit from Notion:
Software Development Teams: To manage projects, track bugs and issues, and organize documentation.
Marketing Teams: To manage campaigns, plan content calendars, and keep track of analytics.
Sales Teams: To manage leads, track sales pipeline, and keep track of customer interactions.
And more!
Notion, however, has one major drawback. Although it's the best for documenting knowledge, it's not the best for project/task management of complex projects.
Similar to Notion, Confluence is another documenting + task management tool for remote teams. While both of them work pretty much the same way, one place where Confluence shines is its robust integration system.
If your team works with a lot of other applications like Trello, Jira, Teams, etc., Confluence would better integrate with them. And it supports integration with many different applications, helping streamline a remote team's work process.
Regarding the teams that could work well with Confluence, it's entirely the same as Notion.
However, Confluence is shadowed by two drawbacks:
One is the steep learning curve. New users will most certainly find Confluence a bit difficult to navigate and master.
Second, is the bugs. Confluence is often criticized for the occasional bugs, and users have even reported disruptions of files.
Conclusion
In conclusion, with the help of these top remote work productivity tools in 2023, you can say goodbye to endless distractions and hello to maximum efficiency.
Whether you're a remote work veteran or just starting out, these tools will help you stay on track, collaborate effectively, and get things done.
From Trello to Jira, Dropbox to Google Drive, and Figma, these tools are the trusty companions you need to conquer your to-do list and take your remote work game to the next level. So gear up, log in, and let's get to work!
Follow us for more knowledge about remote work
We'll be publishing new articles every week, and new social media content every day. If you enjoyed this article, follow us on Twitter or Linkedin, and stay in the loop. Share our content and drop us a comment there. Let's help more people learn about remote work.