Course + Community for remote job seekers
Today I'm telling you about my new product, the Remote Jobs Braintrust, and some recent conversations that sparked the upcoming launch.
Hey,

I'm Sergio Pereira, and this is the Remote Work newsletter 👋
Last week I told you why Linkedin is not the ideal website for remote jobs, and shared a few alternatives that are much better, in my experience.
Today I'm telling you about my new product, the Remote Jobs Braintrust, and some recent conversations that sparked the upcoming launch.
If you're reading this, it's likely that you found me on Twitter at some point. I started writing my thoughts there every day since early 2022, especially about remote work and tech careers.
Quite naturally, people started reaching out to me in the DMs section. Some would share their thoughts about something I wrote, or some personal story. But many people reached out asking for help. Especially to help them finding a remote job.
In the early days, it was just a few people sending such DMs, and I took the time to help some of them 1:1. You might remember cases like Tshepang, from South Africa, or Erald, from Indonesia. There were a few others who successfully got remote jobs, and I was very happy for them.
But in recent months I'm receiving dozens of DMs every week, and I lack the bandwidth to help everyone in such a 1:1 fashion. As such, I thought of launching the Remote Jobs Braintrust. It's a cohort based course, with 6 live sessions lectured by myself. Everyone who completes those sessions will have free lifetime access to a private community where we'll have ongoing discussion and collaboration around landing remote jobs.
I feel it will be amazing. But frankly, I've been procrastinating this launch for a few months. I opened the waitlist a while ago and got significant interest. With hundreds of people in the waitlist, I've been receiving DMs asking when I'm planning to launch.
What's even more fascinating to me. I've also been receiving DMs of people who found remote jobs just by leveraging the tips I'm sharing on Twitter and on this newsletter. Read this excerpt of a DM I received this week from a fellow Remote Worker in Poland: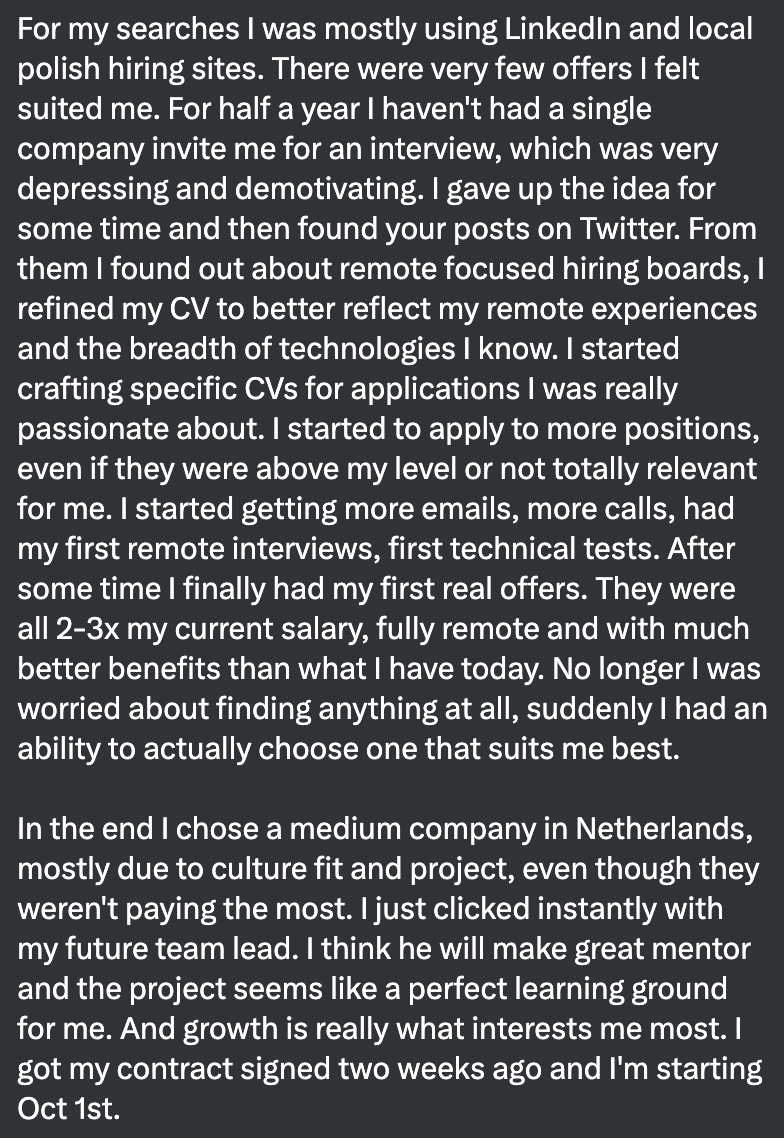 Receiving this type of feedback is really pushing me to finally launch the Remote Jobs Braintrust, and help as many people as I can to find remote jobs, grow their careers and improve their lives.
I've now decided to launch it in the upcoming month of October. Since I have a long waitlist, I'm committed to learn more about everyone interested. As such, I'll start dropping some surveys and early content to those in the waitlist, and the first cohort will be exclusively launched to them.
If you're looking for a remote job, I recommend you to do two things:
1 Join the Remote Jobs Braintrust waitlist
2 Keep an eye on your email. Next week you'll start receiving emails from me.
In the meantime, while you wait for the launch of the Remote Jobs Braintrust, check this list of 1000+ remote companies hiring right now, and apply to the ones that fit your skills.
Thanks for reading this newsletter until the end. You can read all past editions here. Make sure to share the link with your friends and colleagues so they can read it too.
See you next Friday,
Sergio Pereira,
Startup CTO & Remote Work Lover