A truly global bunch
"I love the global vibe here. It's the same vibe I get when working with remote teams, as a CTO. On a normal day, I have team members around the world".
Hey,

I'm Sergio Pereira, and this is the Remote Work newsletter 👋
Last week I told you about the 6 stages of landing a remote job, which I'll be covering in each live session of the Remote Jobs Braintrust.
Actually, since last week's newsletter edition I've officially opened enrolment for Cohort #1, which sold out in a few hours. I'm very thankful for the 30 people who joined, and excited to get everything ready for our first live session, next Tuesday.
For everyone who messaged me asking about further Cohorts, don't despair. I should soon announce Cohort #2, but first let me kick off Cohort #1 and pick up some momentum.
Now, changing gears for today's newsletter, which is more personal and perhaps a bit philosophical.
Today I woke up at 4am, to deliver this live course on the O'Reilly platform. I'm a morning person, and now that I'm injured and can't go out for a run before sunrise, I use that time to get some work done. In this case, a live course for Australia/Pacific time zones.
But the point is: I start the presentation with the slide below, where I'm the pin in that tiny piece of land in the westernmost bit of Europe. I get 1000+ people in the audience for these sessions, and when I ask everyone to share their country in the live chat, there are people in 50+ countries. I mentally point in the map whenever someone types in a new country. It's quite fun, actually!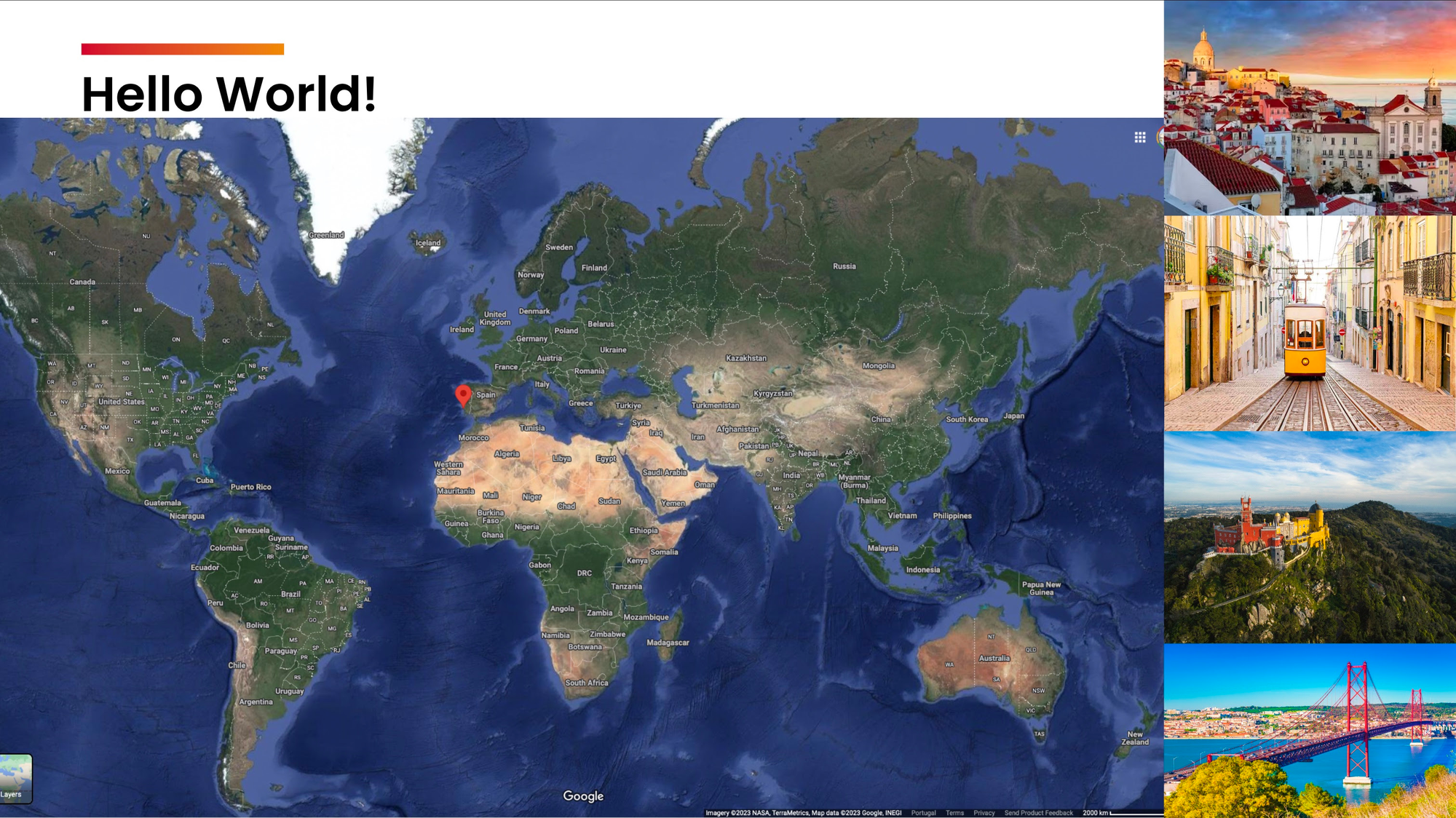 I tell them, "I love the global vibe here. It's the same vibe I get when working with remote teams, as a CTO. On a normal day, I have team members around the world".
I believe many people in the audience don't know me from Twitter or Medium or Linkedin. They've never read my content about Remote Work or being a Fractional CTO. Maybe some of them don't quite believe this "global vibe" is a thing in day to day work.
But it is! And my agenda today actually highlights that pretty nicely for me:
Client from the Netherlands
This is one of my oldest clients, and I've helped them hire every Software Engineer in the team since a few years ago. They are growing, and hiring again. Last people we onboarded are based in Serbia and Tunisia. Now I'm synching up with team members in Netherlands and Portugal about the upcoming hires. The team spreads now across 7 different countries. (Btw, if you're in European timezones, and keen on older stacks with PHP and Perl, let me know)
Pre-work for the Remote Jobs Braintrust
As I get the community, and Notion, and Slide decks ready to kick off this new initiative, I'm reviewing the profiles of the people joining Cohort #1. And I'm very happy to realise that we have 30 people from 15 different countries. A truly global bunch that I'm very excited to meet next Tuesday.
Client in the US/Brazil
In the afternoon, I have an interview with a candidate from Brazil, as this US client is hiring aggressively in LATAM, especially in Brazil. Roles ranging from Tech Lead to Frontend and Backend (PHP, Javascript). I'm having fun with this team in Brazil, as it offers me the unusual opportunity to speak my native language (Portuguese) in my work as a Fractional CTO.
Another client from the US
Last appointment of the day is with a Fintech client from Florida, US. This is a truly global team, with founders living in different continents, and team members spanning across several time zones between Philippines and Argentina. I'm right in the middle, timezone-wise. Actually, one of the agenda topics is also hiring, specifically senior Node.js/React.js folks.
So, this newsletter started with the realization that I find myself in the middle of people all around the world. And I love it! But what's even more fun, is that this newsletter ends with another realization: Most of my clients are again in hiring-mode. Is it a global trend? Has hiring picked up again? I don't know, my sample is small. But it does feel very good to be hiring heavily again after the "layoff season" we had across the tech industry.
Thanks for reading this newsletter until the end. You can read all past editions here. Make sure to share the link with your friends and colleagues so they can read it too.
See you next Friday,
Sergio Pereira,
Startup CTO & Remote Work Lover