Are remote jobs just a fad?
Companies returning to the office make headlines in large media outlets. However, remote work is NOT a fad. The number of companies that work remote is actually growing.
Hey,

I'm Sergio Pereira, and this is the Remote Work newsletter 👋
Last week I walked you through the 7 SaaS tools I use in my remote teams, and how I implement async-first processes using those tools.
Today I'll address a common question people ask me:
• "Is remote work just a fad?"
TL;DR: Remote work is NOT a fad. The number of companies that work remote is actually growing.
Companies returning to the office make headlines in large media outlets, they have the budget to buy that media and they need to announce it as a "culture building" thing. They know returning to the office is unpopular for their employees, most of them want the flexibility of working remote.
One obvious consequence of companies returning to the office is that everyone else who reads such headlines might actually think that most companies are returning to the office, and that remote jobs are shrinking. That isn't true at all. Quite the opposite, actually. Thousands of companies are remote, and actively hiring fully remote roles. As an example, check this list of 1000+ remote companies I built recently.
This growth of remote work is likely to continue, despite the media push against it. The key thing driving this growth of remote work is the strong cohort effect of new companies being remote by default.
Check this chart from a recent study on the topic: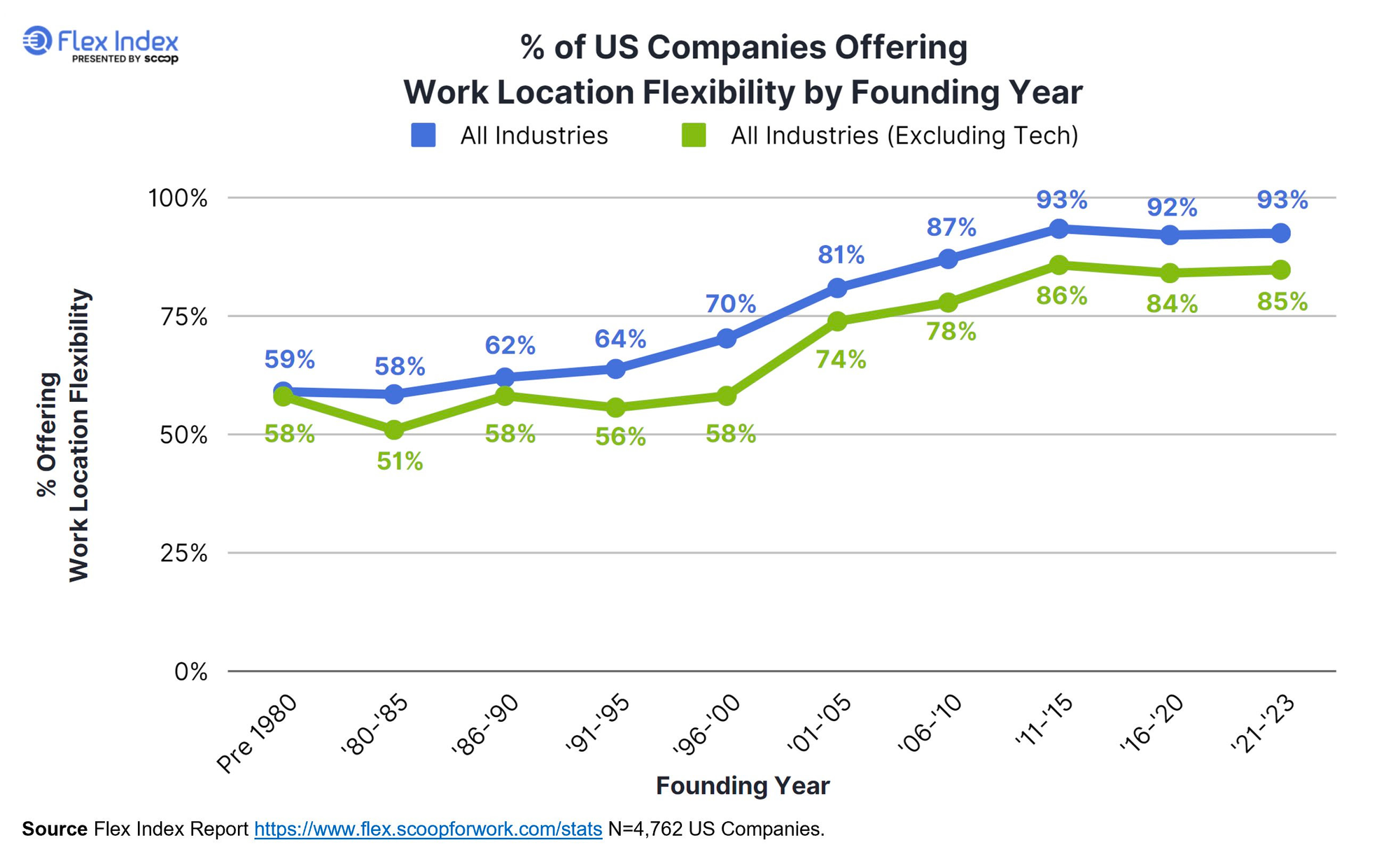 It's an obvious observation that companies are much more remote-friendly then they used to be a few years ago, in general. The period between 2020 and 2022, when many companies were forced to go remote, certainly contributed to this acceleration of remote work.
Data shows a strong cohort effect. Recently founded companies are much more remote than older companies. Many of these are now small startups and SMBs with only a few employees, but many will grow into medium and large companies with hundreds or thousands of employees.
This cohort effect is slow but steady. Many of these companies will nurture their remote culture as they grow, just like others did in the recent past (eg: Gitlab, Automattic, Zapier, etc), we'll find ourselves in a world with many large companies that don't have an actual office and simply hire employees around the world to fill their open roles.
As a Fractional CTO, I work with early stage tech startups, and it's my own first hand observation that startups are now built remote by default. This is happening for a few key reasons:
Cost to hire
It's no surprise that Founders will prefer to hire a in places where cost of living is lower, and cost of labor is lower than in major metro cities. As their workforce grows with employees spread through different cities and countries, the cost and logistics of ever moving to an office is tremendous.
Time to hire
When hiring in a certain city, we are limited to only the people who live at commute distance to an office. Many times companies need to engage costly recruiters to find a few relevant candidates. On the other hand, when hiring remote the talent pool expands massively. Each job opening gets hundreds of applicants, and the selection process can be much simpler and faster.
Find specific talent internationally
Sometimes hiring specific skills or experience is tough if constrained to a certain city or country. In a remote culture a company can hire employees or advisors who match very specific requirements, regardless of where they live.
Diversity
Hiring people from around the world to a company with a fully remote culture is the ultimate tactic to grow a multi-cultural diverse team.
I'm telling you all this so you don't fall for those looming media headlines whenever some big tech company returns to the office. Remote work is NOT a fad, there are thousands of remote jobs up for the grabs, as I you can see in my remote jobs list. They are very competitive, but a life-changing salary is certainly worth fighting for.
In case you're actively looking for a remote job, I'm launching soon my first ever cohort based course and private community, where I'll be breaking down my knowledge into modules, and will help a batch of remote job seekers find a remote job. The launch will be private, join the waitlist and stay tuned.
Thanks for reading this newsletter until the end. You can read all past editions here. Make sure to share the link with your friends and colleagues so they can read it too.
See you next Friday,
Sergio Pereira,
Startup CTO & Remote Work Lover